GreenCity Online
---
GreenCity Online is a co-curricular course which imbibes the Nordic mindset on waste management in children. The Nordic waste management system is one that is sustained by the actions of responsible citizens and vigilant authorities who work together to execute waste management best practices. Taking inspiration from this system, environmental values are ingrained in children from a young age through the GreenCity course.
VentureVillage received the support of organizations like Haritha Keralam Mission, Clean Kerala Company Limited, and the United Nations Development Programme during the development of the online course.
About the course:
GreenCity is an online course that focuses mainly on waste management. Through this course, students will be taught about the waste management problem across the world and then they will be made to think about changes that they can make in their own lives to become more environmentally friendly citizens. Students will learn about the importance of sorting and segregating waste and will also understand the waste management processes followed in Finland as well as in Kerala.
At the end of this course, students will be asked to come up with a project to solve any environment-related problem near their home or school. This can be an individual or group effort and the final report will be submitted to the Mentor teacher assigned to that student(s).
Even though the GreenCity Online course is conducted through a digital medium, we have included interesting videos, exciting games, interactive quizzes and small tasks that learners can carry out at their homes as part of the course.
Available Languages: Malayalam, English
---
GreenCity Online focuses on:
Waste management problems across the world
Changes that students can make in their own lives to become environmentally friendly citizens
Importance of sorting and segregating waste
Understanding the waste management processes in their state
The highlights of this course are:
Structured Learning – Contents divided into Chapters, with each chapter containing video lessons, interactive quizzes, online games etc.
Self-Learning – Since this course is hosted on the Moodle platform, students can access this course whenever they get time and can learn at their own pace.
Tangible Changes – Students will carry out a project at the end of the course to work on an environment related problem near their home or school at the end of the course.
---
Goals:
Short term:
The immediate goal of the course is to make young students aware of the importance of proper waste management practices. This is done by highlighting potential steps that students can take at a household level and at a school level observation as well as possible intervention in spaces in their surroundings. Students are also encouraged to bring about small habit changes in their lives, such as replacing their disposable plastic pens with the more long-lasting ink pens, motivating them to use old textbooks from their elder siblings, remembering to close the running water tap while brushing their teeth and so on. These small changes serve as a path to incorporate the larger goal of leading an environment friendly lifestyle from a young age.
Long Term:
In the long term, our vision is to create future environmental champions who take charge of their environmental behaviour as well as inspire everyone around them to do the same. We also aim at building key mindsets relevant to the 21st century such as critical thinking, design thinking, analytical thinking and evidence-analysis. These mindsets and skills are embedded in our videos and online games and students emerge as informed thinkers who are responsible environmental champions.
The course also aims to build a culture of environmental consciousness in students via their respective schools. Hence, we try to tap into the entire education system and ask students to design good waste management practices in their school. However, this does not mean that the course can only be done at a school level as individual students can also take part in this course and learn from it.
Outcome:
By taking part in this course, students will understand the need to be serious about environmental issues, will learn about changes that they can make in their lives to lead an environment friendly life and will work on bringing about a positive impact on their school or neighbourhood through their final project.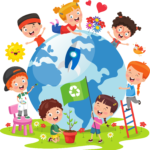 Curriculum and Pedagogy:
The curriculum and content of the course is conceptually simple, understandable and entertaining. The curriculum is embedded with concepts that are brought closer to the learners' understanding with the help of related activities, games and quizzes. The course consists of 10 chapters with an additional introductory video.
Course Duration:
GreenCity online is a self-paced course that can be completed within 4 to 6 weeks from enrolment. The course contains 5 hours of pre-recorded video content. Each video is typically 5 to 15 minutes long and each chapter deals with a specific topic listed in the course curriculum. Students receive staggered week-wise access to the content which will ensure that they take part in all the activities, games and quizzes as part of the course. At the end of each chapter, students have a quiz or a homework activity that will reinforce their learnings from that chapter.
Where can you access GreenCity online?
All VentureVillage courses are made available on the VentureVillage's Learning platform. Once you enrol for the course, we create login credentials for you which will allow you to access the course whenever it is convenient for you. Students can also use the platform to interact with their classmates or teacher and discuss course content or raise their doubts and queries. 
---
Feedback:
We have successfully completed GreenCity online in 25 schools across Kerala and we are overwhelmed with the response from our young environmental champions. Please go through the video below to listen to the feedback from students and teachers!
Let's hear some feedback about GreenCity online!
We have successfully completed GreenCity online in 25 schools across Kerala and we are overwhelmed with the response from our young environment champions
You can access more student and teacher feedback on our Facebook page.
---
How to enroll?
Are you a school, interested in enrolling for GreenCity Online? Start by filling in the details here by clicking the button below.
Implementation partners of Green City