My Period My Pride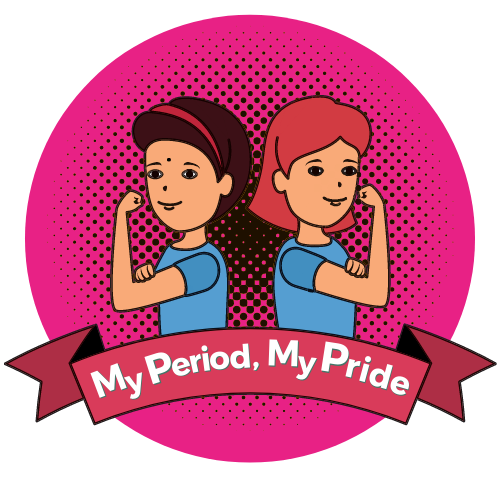 My Period, My Pride is a co-curricular course developed by VentureVillage. Through this course, we aim to teach concepts like menstruation, menstrual hygiene management and environmentally sustainable menstruation to menstruators above 10 years of age.
While menstruation and menstrual health are the core focus areas of this course, the course covers environment related aspects of menstruation as well as cultural taboos around menstruation. By facilitating conversations around menstruation and by spreading knowledge about sustainable menstruation practices, My Period, My Pride will empower menstruators across the world.
---
---
Why is a course like My Period, My Pride required?
Menstruation is a taboo topic in many parts of the world. Open conversations on menstruation are discouraged and people who menstruate are sometimes even forced to hide menstrual hygiene products. This absence of open and honest conversations on the topic means that there is a lot of misinformation surrounding menstruation. This is something that needs to be dealt with urgently. And that is the reason why a course like My Period, My Pride is important.

Through this course, people who are interested in learning about menstruation, menstrual hygiene and sustainable menstruation will be able to access verified information on these topics. In addition to this, everyone who takes part in this course is encouraged to share their knowledge with friends and family members, thereby sharing correct information on menstruation and breaking the taboo at the same time.
Available Language(s): English and Malayalam (soon)
---
My Period, My Pride focuses on:
Menstrual Health and Hygiene in Menstruators
Single Use and Reusable Menstrual Hygiene Products
Environment and Sustainability Aspects Related to Menstruation
Busting Myths and Taboos around Menstruation
The highlights of this course are:
Structured Learning – The contents of this course are divided into 6 Chapters, with each chapter containing video lessons, interactive quizzes, online games and activities etc.
Self-Learning – Since this course is hosted on an online learning platform, students can access this course whenever they get time. All students can progress through this course at their own pace and can learn either by themselves or along with their parents.
Practical Knowledge – By sharing information and instructions on:
Tracking Menstrual Cycle and Menstrual Fluid Flow
Steps Menstruators can Take Proper Care Of Themselves During Periods
Various Kinds of Single Use and Reusable Menstrual Hygiene Products and Their Usage
My Period, My Pride equips students with practical skills that will allow them to menstruate in a manner that is healthy for themselves as well as for the environment.
---
Course Outcomes:
Students who take part in this course will:
Learn to View Menstruation as an Important but Normal Bodily Function
Learn about Proper Menstrual Health and Hygiene Management
Be Motivated To Spread Awareness about Menstruation
Consider Shifting to Reusable Menstrual Hygiene Products
---
Goals:
Short term:
In the short term, this course will:
Improve understanding and awareness about menstruation and menstrual health & hygiene related practices among young menstruators
Normalise conversations about menstruation and menstrual hygiene products
Create awareness about the importance of sustainable menstruation practices
Long Term:
VentureVillage is an organisation that strives to create long term positive changes in society. Through My Period, My Pride, our long term vision is to empower students with skills and mindsets that allow them to critically analyse and question established societal practices around menstruation. Over the next 3 to 5 years, this course will:
Spread awareness about the ways in which inappropriate menstrual hygiene management could affect the health of the menstruator and that of the environment
Dismantle societal stigma around menstruation by busting some of the commonly observed myths and taboos associated with menstruation
Empower young menstruators to become self-aware individuals and vocal supporters of fighting societal and cultural stigma around menstruation
---
Are you some one who is interested in learning, getting certified and working for this cause? Learn more about our Sustainable Menstruation Care Initiative here
Curriculum and Pedagogy:
My Period, My Pride is a self-paced course which includes 4 hours of pre-recorded video content. The course contents are split into 6 chapters, with each chapter dealing with a particular topic. With the help of content that is simple, understandable and interactive, students who take part in this course are introduced to key concepts in an interesting and engaging manner. We have also used animation and images wherever required to aid student understanding. Many activities and games are also included in this course and these will make this course a fun and enjoyable learning experience.
The Specific Topics Covered In This Course Include:
The Female Reproductive System
Menstrual Cycle
Proper Menstrual Hygiene Practices
Different Types of Single Use and Reusable Menstrual Hygiene Products
The Ways in Which these Products Affect our Health And Pollute our Planet and
Steps that Students Can Practice to Follow Sustainable Menstruation
Course Fee:
VentureVillage is a social enterprise that aims to create positive changes in society by creating co-curricular courses. We offer these courses to schools and individual students at very low cost in the hope that this will allow as many students to access these courses as possible. The price for My Period, My Pride has been decided using that same principle.
How can you enroll for My Period, My Pride?
All VentureVillage courses are made available on the VentureVillage Learning platform. If you are a student or a parent interested in learning this course, please enrol yourself by signing up here.
Given the importance of making this course available to as many students as possible, VentureVillage is also looking to work with schools so that all young menstruators in a school can be given access to this course. If you are a school principal or a teacher looking to make this course available for your students, please sign up using this form and we will get in touch with you within 24 working hours.
Are You Interested in Sponsoring A School or College?
Are you a parent or a well wisher who is interested in sponsoring this course for multiple students?. If you wish to do this, please fill this form and we will get in touch with you within 24 working hours.